Football vs Cedar Bluff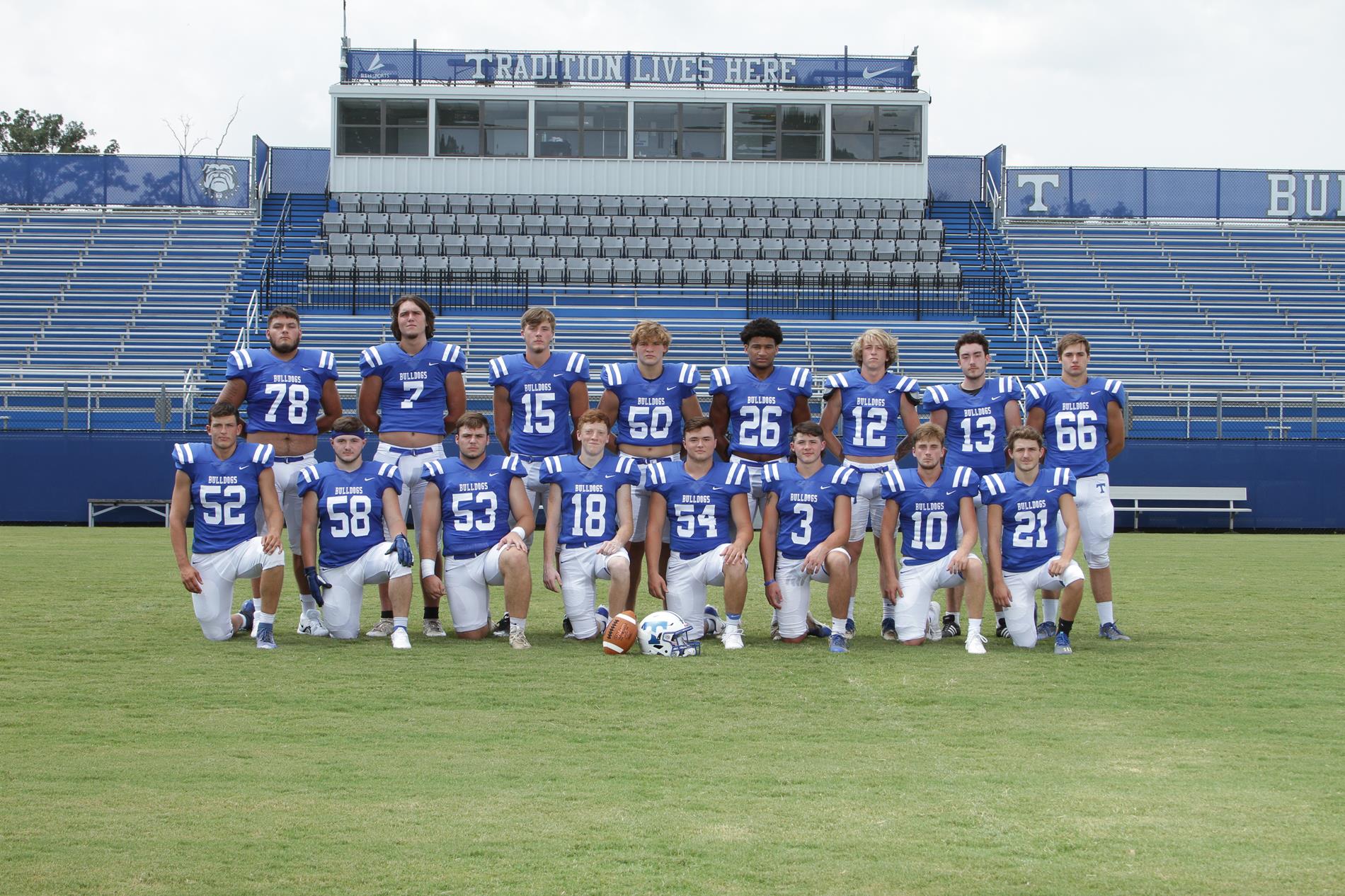 ---
The Trion High School Football team is 4-0 on the season after bulldozing the Cedar Bluff Tigers 49-0 Friday night. Trion ontinued the Bulldog history of shutting out the Lions. Trion has played Cedar Bluff four times and has held the team scoreless all four times.
Senior running back #26 Rob Brown scored three times in the first quarter of the game. The first of the three was a 1-yard rush on the goal line to put the Bulldogs up 6-0. Senior Kicker #13 Devin Dalton was perfect on the night, making all 7 PAT he attempted. Brown scored yet again, this time on an explosive 69 yard run. History repeated itself in the Bulldogs next score, as Brown scored yet again, except this time it was a 77 yard run which added to the Bulldogs score, 21-0.
The last score of the quarter came from the hands of the defense, with Senior #53 Brantley Willbanks recovered a Cedar Bluff fumble in the Trion End Zone.
The Bulldogs started the quarter up 28-0, and the team would not slow down until halftime. Brown scored for his fourth and final time of the night on a 5-yard rush, making the score 35-0.
Junior Quarterback #4 Logan Eller was due next for his first score of the night, and he quickly caught up, rushing for 4 yards to increase the score to 42-0. The last touchdown of the night also came from Eller, throwing a 20 yard pass to Senior #12 Connor Deparlier. The Bulldogs did not score again after half, but with a 49 point lead and a great game by the defense the team did not have to.
The team ended with 401 total yards, with most coming from 153 passing and 228 rushing, respectively. Rob Brown ended the night with 200 rushing yards, and Logan Eller threw for 153. Junior Clay Chesley and Sophomore Garret Mahan both intercepted Cedar Bluff's quarterback. Junior Ayden Abee also recovered a Cedar Bluff fumble.
The Bulldogs play two more games at home. Their toughest matchup of the season is this Friday, September 24, against the Bowdon Red Devils. Everyone come out to support the Bulldogs against the Red Devils as they strive to continue their win streak to five games. Go Dawgs!